Miley 
Female | 3 months | Dwarf • Rabbit
52118661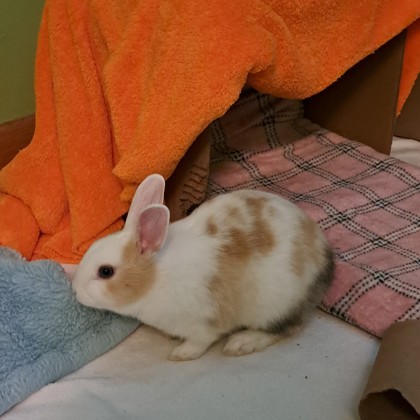 Name: Miley

Age: 2 months

Weight (approx.): 2 lbs

Personality: Hello, my name is Miley and I can't WAIT to meet you! My best friend Ari and I are looking for a new fur-ever home! We are very sweet rabbits who can be a little shy when first meeting new people, but once we get to know you, we warm right up! We are not the biggest fans of being picked up, but don't mind gentle pets. Do we sound like a good fit? Come meet us today!

Medical History: I appear to be a healthy rabbit, but it's always a good idea to set up an appointment with my new vet soon, so that we can meet and make plans to keep me happy and healthy!


Adoption Fee: $90 for the pair

If you'd like to meet me, click the "Learn About the Adoption Process" button below to plan a visit to the shelter!